It's May! Time for our 2022 Duke graduates to endure Pomp and Circumstance on repeat, shed a tear, and then take wing. Always bittersweet for those of us who work with students.
This year, the Duke Research Blog celebrates the graduation of three outstanding student-bloggers. This class produced some real gems and we will be greatly diminished by their commencement.
Anna Gotskind blogged for us all four years, after growing up in Chicago.
Most memorably, Anna took us along when she spent the summer of 2019 at an archaeology dig in Italy.
Her other topics were a liberal arts education in themselves: she wrote about invisible malaria, climate change, dance, drinking water standards, snow leopards, muscular dystrophy, cybercrime, autism and some fascinating classmates. This year, as she readied for her career, she wrote a three-part series about blockchain and bitcoins.
After graduating with a psychology major, an econ minor and an innovation and entrepreneurship certificate, Anna will be moving to Atlanta to work as an associate consultant at Bain and Company. She plans to continue learning about the web3 space in her "free time" and hopes to find an outlet to continue writing about cryptocurrency as well.
Cydney Livingston, the pride of Anson County, NC, joined us as a sophomore and proceeded to shoot out the lights with 31 career posts.
Cydney's biggest hit, by far, was her first-person account of trying to continue with college after the pandemic shut down Spring Term, 2020. "Wednesdays, My New Favorite Day," appealed to Duke alumni, family and friends everywhere who were wondering what the heck was going on in Durham. Short answer: It was weird.
She was integral to our (mostly virtual) coverage of the COVID crisis, and helped the campus keep up with some of the larger questions the emerging virus presented, including social inequity and vaccine hesitancy. She also profiled some grad students, sharing a look inside their worlds from a student's perspective. And in between, Cydney saw paleontologist Richard Leakey in one of his last public appearances and wrote about space junk, cervixes, lead poisoning, dog smarts, visual perception and North Carolina's pungent pork industry.
Cydney is graduating with a BS in Biology and an AB II in History and is moving to Boston in the fall to begin work as an analyst with ClearView Healthcare Partners. But she is leaving open the possibility of a return to academia in history of science, technology and medicine, or science and technology studies. "I'm excited to spend a few years working and reflecting on my time at Duke and what lies ahead in my life journey."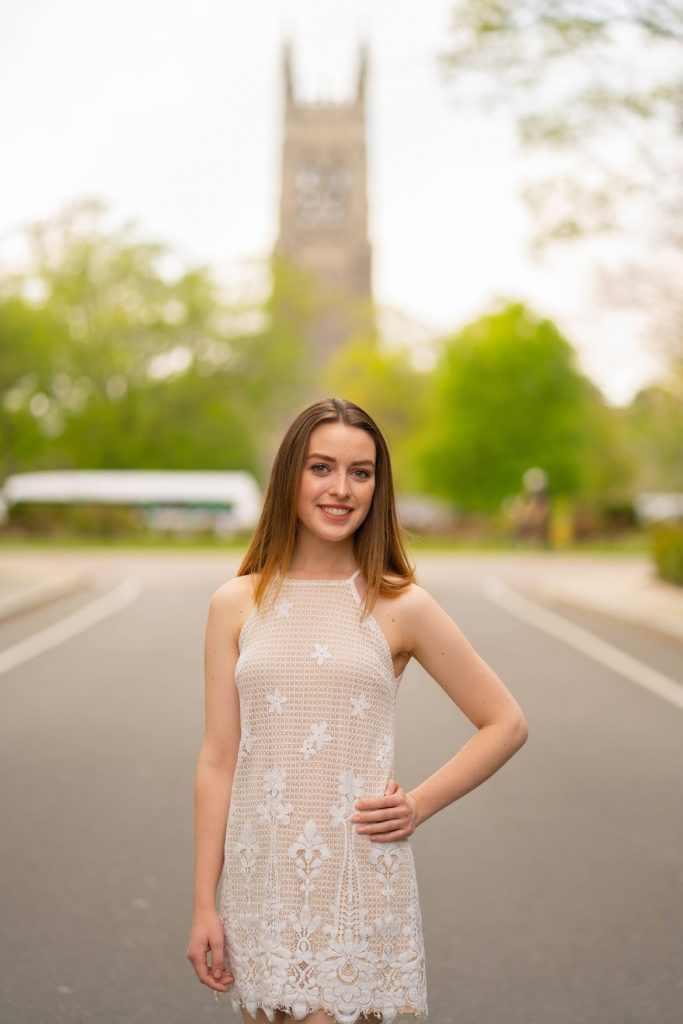 Rebecca Williamson, a first-year economics, but maybe arts major, signed up four years ago just for the experience and horizon- broadening. Mission accomplished! She's graduating with distinction as an English major with minors in Econ and Music. Her blogging career covered The Muppets, grad student standup comedy, and the exhausting Datathon hackfest.
She will be staying in Durham to take part in the Analyst Program for DUMAC, the nonprofit corporation that manages the university's investments.
Godspeed, young bloggers. We miss you already.
Written with fondness and gratitude by Karl Leif Bates, editor