As multiple drug companies in the United States speed towards Phase 3 trials for Covid-19 vaccinations, there remain many unanswered questions about these vaccines.
Moderated by Professor of Law and Philosophy, Nita Farahany (J.D., Ph.D), principal investigators Cynthia Gay (M.D., M.P.H) and Emmanuel (Chip) Walter (M.D.) explored these lingering anxieties in a Science and Society hosted Coronavirus Conversation Thursday, November 6th. Dr. Gay is an Associate Professor of Medicine at the University of North Carolia Chapel Hill (UNC) and Medical Director of the UNC HIV Cure Center. Dr. Walter is a professor of Pediatrics with Duke's Global Health Institute, as well as a member in the Duke Clinical Research Institute and Duke Human Vaccine Institute. Both Gay and Walter are currently overseeing trials for SARS-COV-2 vaccines.
Farahany began the conversation by pointing out that though the previous ideal of a vaccine by the US presidential election did not come to fruition, Phizer and Moderna just reached full enrollment for their Phase 3 trials. "[The timeline question] is a million-dollar question," said Dr. Gay, who is overseeing the Moderna trials at UNC. She said that soon statisticians who have no conflicts of interest with the trials will have a look at the unblinded trial data to see if there are any differences between those who received placebo injections and those who received vaccines. Gay believes this first "peek" may be too early to see a significant signal indicating success of the vaccines. Dr. Walter weighed in, saying that though he hopes "we'll see something," he concurs that Dr. Gay's estimate that no significant signal will be present until January is an accurate one.
As Gay and Walter explained, probed for clarification from Farahany, drug companies undertaking vaccine development enrolled portions of the population at higher risk for contracting Covid — typically on the basis of their form of employment. For example, someone working in healthcare statistically has a higher likelihood of contracting Covid because of increased exposure to environments where Covid-infected persons may be. Vaccine trial groups were either assigned to a placebo or to a vaccine. The drug companies will be able to test the success of the vaccines by evaluating whether those who received the vaccine contract Covid at some statistically significant lower amount than those who received the placebo.
But as Farahany pointed out, a drug company could receive an Emergency Use Authorization (EUA) for their vaccine before trials are complete, prompting the question: Will Phase 3 trial placebo participants receive the vaccine if their company receives an EUA? Dr. Walter offered that this could be problematic because there would be a lack of long-term data on vaccines and Dr. Gay suggested that because blinding is the best sort of study design, there is tension around this question. However, Walter and Gay both agreed that study participants should be honored for the role they stepped into for these trials. Thus, the timing for the EUA may be the biggest determinant on whether or not placebo-receiving Phase 3 participants will receive the vaccines as soon as they are available or not.
Other concerns focus on the overall safety of the vaccines. All of the current Covid vaccines in development are mRNA vaccines, which have never before been approved for use in humans. Dr. Walter offered that before Covid, some companies were actually poised to start an mRNA vaccine in children for other respiratory pathogens and that mRNA vaccines are "pretty well studied." Dr. Gay reinforced these notions by stating that she doesn't have concerns about the vaccine safety, but rather whether or not the vaccines will actually work for the particular strand of virus and "produce enough effective antibodies to have an impact." If Covid vaccines are successful, they may actually change the direction of vaccinology in a promising way.
Walter and Gay also addressed the concerns of side effects and generally conceded that most of the side effects seen, such as low-grade fevers and injection-site tenderness, are merely side effects seen with any sort of vaccine. As Farahany pointed out, these sorts of symptoms are actually often just a signal that the immune system is working and responding to the vaccine. Dr. Gay said that a lot of the concerns over vaccine side-effects can be thought about as cost-benefit analysis. She says we make these sorts of analyses all day, every day — whether we realize it or not. For Gay, one day of muscle soreness and a slight fever is highly preferential to weeks of potential immobilization from contracting Coronavirus.
The concluding question: How do we ensure trials are met with public trust? "We have to remember we're in the middle of a pandemic where things really have to move quickly," Dr. Walter said. He also offered that though this has been the fastest vaccine development he's ever seen – aside from H1N1 – all of the safety mechanisms in place have provided safety comparable to that we would normally see.
"This is a global tragedy we're dealing with," Dr. Gay said. "There is a time to step back and think, 'Isn't it amazing that all these [amazing, talented, expert] people are working day and night' …They're making it happen to try to get us an answer and some effective vaccines."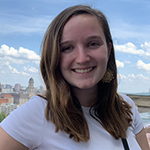 Post by Cydney Livingston