In the midst of increasing outbreaks of vaccine-preventable disease, Duke global health researcher Lavanya Vasudevan (PhD, MPH, LPH) is investigating the reasons for vaccine hesitancy with focus on America and Tanzania.
Vaccine hesitancy refers to the refusal of or delay in accepting vaccinations, despite their availability. Vasudevan hopes to figure out what interventions will change the minds of target populations on such a heated topic.
She presented at Duke's Global Health Institute on November 15th about her "big 5 research areas:" identification of sub-optimal vaccine uptake, contextualization of barriers to uptake, measuring parental concern, debunking misinformation, and developing and testing strategies aimed at addressing vaccine hesitancy.
Globally, Vasudevan says that there are too many kids playing catch-up with their vaccines, meaning that even when children are getting vaccinated, the vaccinations they receive are not on time with the scheduled progression of immunizations, putting them at risk for contracting disease. Different countries measure vaccination coverage in different ways and on different timelines, which makes it harder to understand where sub-optimal vaccine uptake is happening. A better standard for assessing timeliness of vaccines is crucial. Vasudevan is working to confront this issue to gain better understanding of who and where hesitancy is coming from.
Identification of specific regions of vaccine hesitancy is crucial to navigating interventions, she added. Vasudevan wants to be able to pinpoint areas and understand the context-specific issues that vary across time, place, and vaccine type in order to be most effective.
She said that her work in Tanzania has provided insight to the problem of geographic accessibility and lack of proper supplies in the country, prompting delayed and missed vaccinations among 72% of children, according to self-reporting by their mothers. Tanzanian mothers expressed their frustrations during interviews. They frequently arrange to go to a clinic where vaccinations are offered on specific dates and travel long distances to get there. However, if there are not enough kids who come to be vaccinated, the facilities just won't vaccinate those who did manage to show up for immunizations.
Though the qualitative data gained through extensive interviewing and group discussions has been extremely useful and rich, Vasudevan says there is a need for quantitative tools that can rapidly screen for parent's concerns when it comes to the vaccination of their children. Qualitative data is simply not informative on a large scale.
A review of pre-existing measures evaluated 159 studies, but the quantitative scales found were often complex and context-specific, as well as designed and validated for high-income settings. On this basis, Vasudevan and her larger research team decided to design a scale for use in Tanzania because of its specificity in addressing the contexts of the region. Tailored counseling is also being used to address the local concerns and issues.
Another parallel research project that Vasudevan is involved with aims to identify common vaccine myths, creating a taxonomy to tag these myths and developing and testing an intervention that will highlight and debunk misinformation found on the internet. The current end-goal for the work being done is a "vaccine fact-checker" that could be used on web browsers to identify the myths in vaccine-related information found online.
In closing, Vasudevan identified three main areas for developing and testing intervention strategies. She says these are behavioral nudges, educational strategies, and vaccination policy and legislation.
There is a need for parent-focused strategies that recognize parental concern for their child's safety on all sides of the vaccination issue, she said. Stringent policies are likely to alienate hesitant parents rather than increasing vaccine uptake. This is why Vasudevan is so focused on understanding and contextualizing issues specific to hesitancy among parents. It seems that increase of vaccinations and improvement of immunization timeliness lies in hearing and reconciling with parental apprehensions and underlying root causes of these hesitations.
One area of focus that Vasudevan feels is underutilized is pre-natal care. Reduction of the divide between obstetrician/gynecologists (OBGYNs) and pediatric care may be a crucial component to educate parents and enrich their understanding about vaccinations following the birth of the child.
Beyond everything else, she said, building trust is essential; simply providing information to parents is not enough. It takes time and empathy to be enable parents to make healthy vaccination choices. Providing credible resources in a safe environment while tuning in to the causes of hesitancy may be the next step to the reduction of vaccine-preventable disease, a current top ten threat to global health.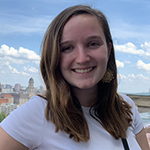 Post by Cydney Livingston