Global warming is becoming a bigger issue every day. But have no fear – "Energy Week at Duke' is here! The 2018 event featured everything from electric mountain bikes to the world's most fuel-efficient vehicle.
To kick off the exciting week, eBike Central and Proterra founder Dale Hill rolled up to the Chemistry parking lot on Sunday to inform everyone about today's latest tech that's helping our planet become more sustainable.
eBike Central had a whole fleet of electric bikes, or "e-bikes," on display for people to try out: mountain bikes, commuter bikes, cargo bikes and more. I tried out one of the mountain bikes and took it off-roading up a steep hill nearby (which I never would've been able to make up without the electric assist). Then just to mess around I tried out the "Packster 40," which was equipped with a child seat in front of the handle bars. It was surprisingly maneuverable and went really fast.
Instead of having a throttle, these e-bikes work through pedal assist, meaning each time you pedal, the bike outputs additional power to the wheels. You can select from five different modes, ranging from "eco" (a 25 percent additional assist), to "turbo" (an extra 300 percent). You can reach top speeds of around 28 miles per hour without even breaking a sweat. What was really cool about the Packster 40 was that it could shift gears at a standstill, and you could add up to three seats if you've got triplets!
As you can see, e-bikes are a very eco-friendly and convenient mode of transportation. They allow for longer, faster commutes while also helping out the environment. The mountain bikes are appealing to a variety of riders, whether they have bad knees or just want the energy to do more laps per session. The batteries take about 4-6 hours to get a charge that lasts for 70 miles. Just within this past year, the mile range has increased by 30 percent, and that number is only growing. As the price for e-bikes goes down and their functionality improves, we'll be seeing a lot more of them around.
E-bikes aren't the only cool electric vehicle rising in popularity. Dale Hill gave an inspiring a talk on how his company Proterra is bringing positive change to public transit through their electrically powered buses.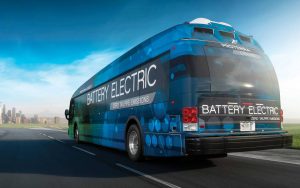 (pic: Duke Today)
Proterra decided to get involved with public transit because buses are ideal candidates for implementing battery electric vehicles. Buses operate on continuous routes, so it's easy to watch them and monitor their performance. They come back to a common maintenance facility, operated on by a professional staff. And obviously they drive tons of people around every day, so cutting out fossil fuels for such a heavily used service could make a large-scale impact in the long run.
As the world's urban density rapidly rises, it simply isn't feasible for everyone to have cars. More and more people will need to turn to alternative methods, like the bus. By 2030, the majority of the world's vehicles will be battery electric. Good thing is, not only are they more reliable than diesel ones, but they require much less maintenance . On top of that, they save a ton of money on gas. So not only are electric buses sustainable, but also a smart investment! It makes sense why Boston, New York City, San Francisco, Los Angeles and Austin have already all committed to having 100 percent electric bus fleets within the coming decades. And Proterra is playing a huge part in that. They currently account for 60 percent of all electric bus sales.
Duke itself is hopping on this electric vehicle train – by 2024 students will be riding a fully battery powered C1 between East and West Campus. This is another one of the sustainable steps Duke has been taking towards carbon neutrality.
The Duke Electric Vehicles team was also at the kickoff event, showcasing their vehicle that holds the Guinness World Record for most fuel-efficient vehicle. They did a couple of laps around the parking lot in the "hydrogen fuel cell car," which gets the equivalent of 14,573 miles per gallon.
I encourage you guys to do your part in living sustainably. Maybe you could buy an electric bike, and effortlessly leave your friends dumbfounded in the dust on your way to school.
Post by Will Sheehan