Young people have the power to generate change, whether they know it or not.
At least that was the sentiment expressed by the Director of Polling at the Harvard Institute of Politics, John Della Volpe at a seminar earlier this month. A leading authority on the intersection of young Americans and political influence, Della Volpe discussed the key role Generation Z will play in the 2022 and 2024 elections.
But does Generation Z really have what it takes to change the course of American politics?
"We spend a lot of time talking about Gen Z, and not enough time talking to you," Della Volpe began as he addressed a crowd of young Duke students. "This is one of the rare occasions where I'm going to be doing most of the talking rather than most of the listening."
Stanford Researcher Roberta Katz describes Generation Z — those born between 1997 and 2012 — as a highly collaborative cohort with a pragmatic attitude about generational issues like political engagement.
Exit Polls from NBC reveal that Gen Z was responsible for more than 9% of total votes in the 2020 presidential election, with that number only expected to grow. In Georgia and Arizona, young voters turned out to be critical for President Joe Biden's victory, Della Volpe said.
He urges Gen Z to "remind elected officials that you did change things and that you will continue changing things." Della Volpe predicts that Gen Z's choices will also be crucial in the 2022 midterms.
Occupy Wall Street, the election of Trump, the Parkland Shooting, Greta Thunberg, and the killing of George Floyd were five events that Della Volpe believed were crucial in shaping this trajectory, as well as Gen Z's political view as a whole.
"We have to look collectively at what you as a cohort saw and how that's affecting you. In fact, I think that's a far better way to think about our politics than what state you are in."
The way parents think about bills and taxes, the way that weighs on your shoulders, that's the way we think about living and dying.

Gen Z woman in conversation with John Della Volpe
"No generation in 70 years has dealt with more chaos, more trauma, more struggle before your brain is even fully developed," Della Volpe asserted. He maintains that Generation Z is dealing with extremely complex issues much earlier than other generations.
Research from the American Psychological Association bears this out, indicating that Gen Zers are currently the most stressed demographic of people in the United States. They are also significantly more likely to rate their mental health as poor in comparison to other generations.
"I'm very cognizant of not putting any more pressure on you," said Della Volpe. "You are already doing such a good job of managing yourselves and managing your situation."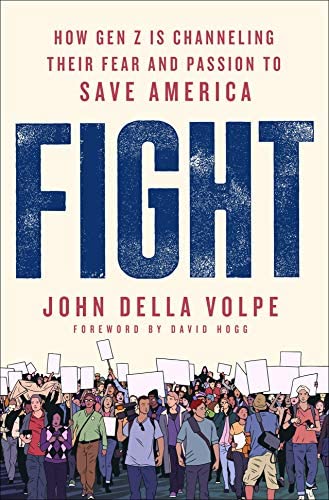 Generation Z is managing so well, in fact, that Della Volpe argues they are essential to the success of US politics moving forward. In his book 'Fight: How Generation Z is Channeling Their Fear and Passion to Save America,' Della Volpe argues that the challenges unique to Gen Z prepare them to take control of their future in this nation.
Thanks to Della Volpe the answer is overwhelmingly clear: Gen Z does have what it takes to turn this nation around. So get out there and vote!
Still need to register to vote? Click here.
Need to check your registration status? Click here.
Post By Skylar Hughes, Class of 2025