As Alec Morlote emphasizes, he's a Biology major because "I'm really interested in it. I'd definitely be a Biology major whether I was pre-med or not."
Morlote, a Trinity junior from northern New Jersey, works in the lab of Dr. Pelin Volkan studying the neurobiology of fruit flies. Why fruit flies, of all things? Well, Morlote initially signed up for a research fellowship program during the summer following his freshman year.
Of course, in March of that year, COVID-19 happened, so Morlote ended up postponing his work to this past summer. He got paired with the Volkan lab because he didn't want to work in an area of research that was very familiar to him.
"I wanted to use research as an opportunity to learn something completely new," he said. The neurobiology of fruit flies hit the nail on the head.
The Volkan Lab is a cell biology and neurobiology lab that studies how social behavior, specifically courting, is affected by stimuli, using fruit flies as a model organism. Morlote's specific project has to do with olfactory stimuli – the things flies smell. In flies, as he explained, one gene is responsible for courtship behavior in male flies. If you take out the olfactory receptor of the fly, however, that gene won't be active.
Morlote is interested in seeing how the olfactory receptor is critical to the expression of this gene.
To do this, he has been working on imaging the antennae of flies – work he describes as "cool, but tedious." It's incredibly detailed work to pick apart the antenna off of such a tiny creature.  Once isolated, neurotransmitters in the antenna that have been tagged with green fluorescent protein (GFP) light up, thus showing the expression pattern of all cells expressing the neurotransmitter.
Humans clearly don't have as simplistic a courtship behavior as fruit flies, but the simplicity of the fruit fly makes it an incredibly valuable organism for studying neurobiology. All discoveries in humans initially started with some sort of watered-down version of the human anatomy, whether mice or in this case, fruit flies. Discoveries into the neurobiology and neuroplasticity of fruit flies just might yield significant discoveries into the neurobiology and neuroplasticity of the human brain.
When asked about his favorite and least favorite parts about his research, Morlote laughed.
"I don't like doing work for three months and getting no results at all," he remarked in reference to the initial work he started on this summer – but alas, such is the nature of scientific research. But he adds that the best part of research is getting results, any at all. And even no results can mean something.
Research was a way for Morlote to narrow his post-graduation plans. He knows now that he wants to pursue an MD, or possibly an MD/PhD. But initially, research was a way for him to see whether this was the path for him at all. When asked why he chose to be pre-med, Morlote said that "it just seemed like the most practical way to apply a love for science." Biology is the science that he loves the most, and so being pre-med seemed like a no-brainer.
It's also a family business. Both of Morlote's parents are doctors, so medicine "is not unfamiliar territory to me." Being Latin American, both his parents have worked extensively with Latin communities in New Jersey, which is work he hopes to emulate in the future.
Whether or not benchwork stays a part of his life, Morlote knows that he wants his career to involve research somehow. The way he sees it, "you're doing the bare minimum if you're just a doctor but you're not trying to better medicine in some way." 
Contributing to research just might become his way.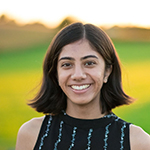 Post by Meghna Datta, Class of 2023