The Sanford School of Public Policy's David Rubenstein endowed lecture on Oct. 15 was like a conversation between two old friends.
In fact it was. Former World Bank president Jim Yong Kim and Duke alumnus and donor David Rubenstein got together on stage in celebration of the school's 50th anniversary to catch up, and the audience was able to listen in. (Watch full video here)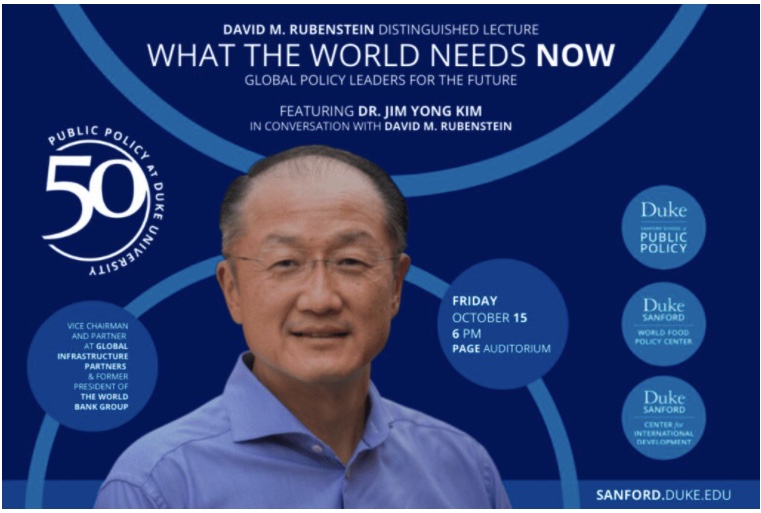 Rubenstein had been a long-time mentor to Kim, offering him advice and aid along his journey.
The conversation began with Kim opening up about his childhood in Korea and the U.S.
"My dad was born in North Korea, and after he escaped he never saw his parents again." His mom, also a refugee, was born in South Korea.
When Kim was just five years old, his parents made the decision to move from South Korea to the U.S. in hopes of a better future for him. He studied at the University of Iowa for a year before transferring to Brown University. After graduating from Brown and getting an MD from Harvard, Kim and a friend, Duke alumnus Paul Farmer MD, came up with the idea to start a nonprofit.
"I remember my close friend Paul said to me, 'Now that we've had the opportunity to be involved in ridiculously elaborate educations, what's our responsibility to the poor?' and that's how Partners in Health was created."
The nonprofit aimed to grant accessible healthcare in Haiti, and then eventually to other countries around the world. After his time with Partners in Health, Kim became the President of Dartmouth University, and then became President of the World Bank.
"I had a coach in high school who told me, 'You have to know when to leave.' I've had many careers in my lifetime, and I'm grateful for that."
Kim also talked about his views on the pandemic from a policy standpoint, questioning, "Why are we taking such a passive view on how to tackle this pandemic?" He explained how the U.S. was completely unprepared as a nation to tackle an epidemic like this, as only 2.5% of health spending had been allocated towards public health.
Rubenstein continued the conversation, asking Kim what his advice for future world policy leaders is. "You've made a fantastic choice coming to Duke, but try to come out with a skill. You have to learn new things," he said.
He explained how Duke was the perfect environment to foster education and skill simultaneously, and how this kind of opportunity enhances your ability to give back to the world. "My medical degree from Harvard helped me with Partners in Health and gave me a skill I could fall back on and learn from."
Kim argued that versatility is a good thing, not a bad thing, and that future policy leaders need to hone in on this strength to make the most out of their career.
Excitingly enough, I had the rare opportunity to ask these brilliant men a question towards the end of the lecture: "How do you release any self-doubt you have when going after such a big goal, like starting your own non-profit?" Kim responded by saying that "regardless of how my goal turned out, I knew I had to try."
The message of this lecture was clear. Schools like Duke hold the world's future leaders, and at a time like this, it is crucial that we as students develop ourselves in a well-rounded way.
Post by Skylar Hughes, Class of 2025