"How often do we get to see a new field [of medicine] grow?" asked Satasuk "Joy" Bhosai (MD MPH), the chief of digital health and strategy for the Duke Clinical Research Institute.
Bhosai offered insights to the rapidly emerging and expanding field of digital health in her talk "Digital Health: How Do We Scale?" at Duke's School of Nursing on Wednesday, March 4th.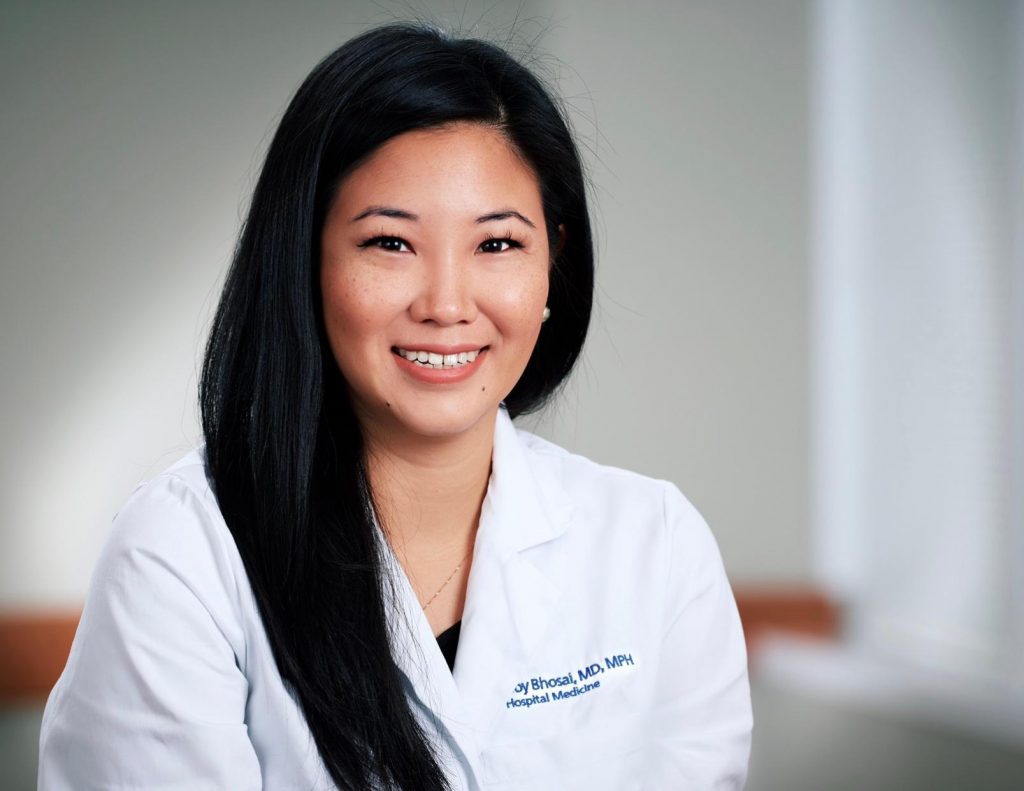 Digital health is a blanketing term that refers to a wide – and growing – array of services and products that merge digital technologies with healthcare to improve its quality, efficiency, and personalization. To put it simply: Digital health is the computerization of healthcare. Some of the largest, current digital trends of health care, according to Bhosai, are Artificial Intelligence (AI)/Machine Learning (ML), digital therapeutics, and innovations in delivery models. However, she presented a graphic (shown below) that shows the reach of the field.
Bhosai focused on the challenges to digital health's progress and the role that academia and research play in addressing these issues. "Having an idea and the technology are only the beginning," Bhosai said.
To prove her point, Bhosai highlighted the company Proteus. Once valued at $1.5 billion, they are now struggling to stay afloat because they haven't provided the data on effectiveness that investors needed.
She also pointed out the collaboration between Google and Ascension.  The duo teamed up with great technological potential to work on digital healthcare, but they received major pushback because Ascension released patients' medical records to Google without patient knowledge or consent.
In the life cycle of developing and implementing digital health tools, Bhosai said that most companies falter or fail between beta testing and scaling. "To reach scale, evidence, and the right partners are needed."
She proposed three main challenges as current limiters to breaking through the difficult transition that crushes so many digital health companies: 1) translating ideas to action, 2) evaluation and validation, and 3) adoption and scale.
Bhosai believes that there are many ways that academia and research could play a role in addressing these issues. Academics and researchers could give insight to the applicability of products, offer guidance on clinical utility, provide networks of contacts and support, materialize solutions, and build innovations at the front of business and growth models.
This could help with things such as workflow, which may not be actualized in the product design of digital health products. One venture-backed attempt at putting information into a wearable, glasses-like device caused physicians to become very dizzy and disoriented – a problem that could have been avoided if medical specialists were integrated in the design process.
One success story is the company Akili, a digital therapeutic company that addresses cognitive impairments. A team at Duke, led by Scott Kollins, PhD, conducted a controlled clinical trial using the therapeutics and proved that the software led to improvements in treatment groups. The results of the study were submitted to the Federal Drug Administration (FDA) so that Akili can make claims around these findings in support of their service. Many other digital health products could benefit from these types of trials that provide evidence of their potential impacts in healthcare.
"Providers and academics are needed in health tech," said Bhosai. This is a crucial connection to make for the future of the digital health field. Bhosai also pointed out that digital health tool users are not always a customer. For example, hospital systems are often the intended users of digital health services, but most hospitals have technical requirements that must be met in order to adopt a service. A product may be amazing but be barred from consideration for use because it would fail system security audits.
Products that are directly consumed by customers also must integrate into a patient's lifestyle. "When products are high-touch, you may lose engagement," Bhosai stated, "Patients don't want to log onto three different apps when they could just log onto one."
As digital health grows rapidly, companies in the field should work to navigate the health policies in place, understand the landscape of healthcare, and collaborate with academics and researchers to be successful and provide the best services for this new field of medicine.