What happens when Netflix dies? To open Duke Libraries' Fair Use Week, Kyle Courtney, copyright advisor for Harvard University, and Will Cross, director of the Copyright and Digital Scholarship Center at North Carolina State University, spoke at Duke about the threats that licensing and copyright pose to cultural heritage on February 24th.
One responsibility – among many – of modern-day librarians is that of preservation. However, streaming services like Netflix and Hulu change the ways that librarians are able to do their jobs. Though Cross said that the constraints of copyright may actually help librarians archive culture in its many forms, licensing has introduced the need to negotiate preservation work.
Consumer-licensed materials, such as those provided on streaming services, have a bias of economic efficiency and make the mission of archiving nearly impossible, leaving many wondering, "How do we librarian? How do we scholar?"
Cross offered that modern-day culture is being built behind paywalls and that terms of service and contract laws prioritize the gain of individual companies and minimize the ways in which digital culture manifested on Netflix, Hulu, and other streaming companies are able to serve society. In other words, culture is becoming privately owned.
Cross also argued that if libraries didn't already exist, there would no longer be any way to create them because even freely available items such as certain e-books are being made exclusively available through consumer licensed spaces.
Enter Fair Use. Fair Use is a doctrine in US copyright law that allows certain copyrighted materials to be used without permission from or payment to copyright holders if the use complies with four factors of use. The policy benefits scholars, students, and the general public in many ways by facilitating information-sharing and knowledge-creation. It can grant the use of copyrighted works for particular purposes and limits the monopoly of a copyright owner over the work in question. Courtney and Cross believe that Fair Use could provide a potential solution to the limitations currently being put on librarians' ability to preserve content from streaming services.
The current lack of a market for preserving streaming service content is a positive for people like Courtney and Cross who are advocating the need to archive these types of work. Not having a market means preservation poses little to no harm to the business of streaming services. Several case studies offer additional hope for the potential to circumvent preservation restrictions by using the rights of Fair Use.
However they said, there is little time to waste. So far, companies like Netflix are currently hesitant or completely reluctant to engage in the conversations about archival preservation that Courtney and Cross bring to the table.
Courtney says that companies like Hulu or Disney+ are not thinking about having scholars watch "Black Mirror" 100 years from now, but rather about earnings from fiscal quarter-to-quarter. Licensing does not address preservation or access concerns, and if all the streaming services suddenly went belly-up it's probable that some of the unique content from these companies would be lost forever.
"If we don't act … we may be losing culture left, right, and center," Courtney said.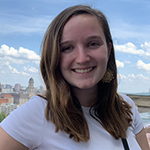 Post by Cydney Livingston