What happens when you give people money? Dr. Aisha Nyandoro and Natalie Foster know: through their research, they've seen the impacts of guaranteed income firsthand.
On November 9, as part of the Duke Center for Child and Family Policy's Sulzberger Distinguished Lecture series, these experts discussed their work and what we can learn from it at "What Happens When You Give People Money: The Future of Economic Security for Children and Families."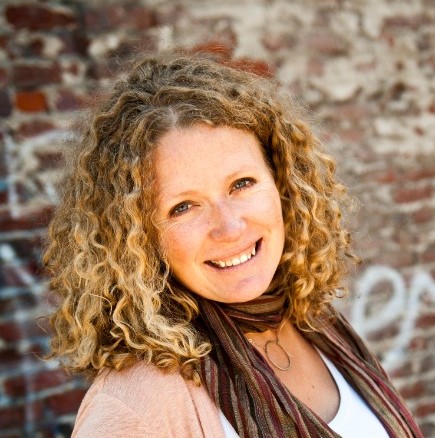 Foster, co-founder and co-chair of the Economic Security Project, began with the big idea of guaranteed income. Before the pandemic, wealth and income inequality were at all-time highs — disparities that "can be traced back to the origins of racialized capitalism." But recently, things have gotten even harder. Wages have remained stagnant despite increases in productivity — and despite inflation, making it harder to afford things like rent. Foster denounced the "strong ideology that says that lack of security in this system is a personal failing. That if you can't pull yourself up, there's something wrong with you." There's something wrong with the system, Foster said. "People are working. The economy isn't."
Foster explained that the 1996 "Personal Responsibility and Work Opportunity Reconciliation Act" fundamentally changed welfare by converting the old New Deal-era unlimited grant program into the flat-funded block grant we now know as TANF, leaving determination of eligibility to state discretion and generally "making welfare more punitive." The Act, Foster said, was built on racist stereotypes, like that of the welfare queen. To make matters worse, it was passed against the backdrop of a persistent devaluation of the labor of people of color.
Foster said that even though there didn't appear to be room in these political conditions to do things differently, she had the "audacity to imagine something else: the 'adjacent possible.'" She wanted to give cash to people directly, ensuring an income floor regardless of whatever crises that may abound.
Foster worked with the mayor of Stockton, California on the Stockton Economic Empowerment Demonstration (SEED), which provided 125 Stockton residents with $500 monthly payments for two years.
Foster was connected by a mutual friend to Nyandoro, the CEO of Springboard to Opportunities. Nyandoro had launched The Magnolia Mother's Trust, which provides low-income Black mothers in Jackson, Mississippi with $1,000 monthly payments for one year.
With The Magnolia Mother's Trust, Nyandoro sought to shift away from economic policy "rooted in 'what is,' and toward 'what could be.'" This concept has a rich history, she said, and includes the work of Martin Luther King Jr. and the Black Panthers. She had a specific 'what if' in mind: "What if when Black women told us what they needed, we believed them?" What if we sought to overturn the very structures that keep these people down, and subverted the "paternalistic nature of the social safety net"?
Nyandoro stated that as a researcher, when she has questions, she "goes back to the people." When she did, she found that although people's needs were individual, "cash was ubiquitous" — cash was a solution that could address every single one of the problems that she heard. Giving cash directly could help combat a system that "penalizes people for being poor, rather than trying to lift them out of poverty."
Why low-income Black mothers? Nyandoro explained that in order to do the work of economic liberation, one must identify what's wrong with the system. In this case, that meant identifying those who are the most negatively impacted by the system, and using what limited resources are available to help them specifically.
Nyandoro turned to her findings: giving people cash works. These mothers are often working tirelessly, holding down two or three jobs and struggling to make ends meet. After receiving the money, people continue to work and often do so at higher rates (a major fear of opponents of guaranteed income). As a result, their income is often doubled — with life-changing results.
Beyond the numbers, Nyandoro emphasized that "we are seeing joy. We don't talk about joy enough as it relates to Black women." This money allowed Black women to feel free, to be entrepreneurial: to "dare to dream for the first time — for themselves and for their families."
She referenced Chimamanda Ngozi Adichie's famous speech "The Danger of a Single Story," explaining that in order to change the narrative, "we need to change the narrator." It's time to think about whose voices we center.
In Jackson, Mississippi and Stockton, California, the pair had carried out research about the 'adjacent possible.' They'd used cities and states as "laboratories in democracy." Foster said that their work was paving the way for gradual advances in guaranteed income — slowly, but surely. Then, the pandemic hit.
Suddenly, ideas that had recently been dismissed as too radical were viewed as necessary. Often unable to work, people needed money fast in order to put food on the table and cover their most urgent needs. The federal government rose to the challenge with the American Rescue Plan, providing stimulus checks and pandemic unemployment insurance, plus expanding the Child Tax Credit. "The 'adjacent possible'", Foster said, "had become the possible."
The country saw an "immediate drop in poverty." The pandemic was revealing, said Foster. It revealed that cash provides time, stress reduction, and resilience. It revealed that cash serves as a tool to create economic security and "build back better." Above all, it revealed that "poverty is a policy choice that we're currently making. We could make a different policy choice in order to eliminate it."
The pandemic also revealed that stimulus checks and the Child Tax Credit were "very popular policies." Nyandoro has observed support in the form of petitions for monthly cash transfers, the founding of organizations like Mayors for a Guaranteed Income and Guaranteed Income Community of Practice, and the launch of over a hundred guaranteed income pilots of some sort. All these efforts, Nyandoro said, are pushing toward "the same North Star": centering the needs of families and achieving economic liberation through federal policy.
Foster turned the discussion toward next steps: "these victories have been immense, but could disappear" if the Build Back Better Act does not pass. The Act includes a year-long extension of the expanded Child Tax Credit, a key instantiation of guaranteed income. The Child Tax Credit has bipartisan support.
If the extension of the Child Tax Credit passes, then according to Foster, guaranteed income is one step closer to becoming a cornerstone of social policy. This would be a "nail in the coffin of the way we've done policy for the last fifty years — that you're only worth what you do in the world. Every human has dignity and worth, and we have the opportunity to build a policy that says just that."
Nyandoro agreed with Foster. As an anti-poverty advocate, she believes in a world without poverty: a world where "everyone can have a life of dignity for themselves and their families." She believes that the 'adjacent possible' is achievable if "we can move beyond our own individual needs in order to view life as a collective, where prosperity is shared rather than hoarded." She ended by quoting Toni Morrison: "if you have some power, then your job is to empower someone else."
Last Friday, the House voted to pass the Build Back Better Act, which now heads to the Senate.