As part of this year's Energy Week at Duke, graduate and undergraduates were able to participate in a competitive "situation room" style event in which participants were split into five teams and given seventy-five minutes to create a plan for expanding EV (electric vehicle) access in Durham. 
For just over an hour in a Fuqua School of Business classroom, my fellow participants and I mulled over the complexities of an issue facing municipalities across the country and produced a variety of solutions, representative of the range of specialties within each group. One more CS-minded group proposed an app to both help residents locate charging stations and help the city collect data on the use of new EV infrastructure, while another group explored the technological and price saving perks of utility pole-mounted charging stations.
The resulting ideas were reviewed by a panel of judges who covered multiple areas of EV expertise: Jennifer Weiss, Senior Advisor for Climate Change Policy at the North Carolina Department of Transportation; Matt Abele, Director of Marketing and Communications at North Carolina Sustainable Energy Association; Sean Ackley, E-Mobility Segment Lead at Hitachi Americas, Ltd.; and Evian Patterson, Assistant Transportation Director in the Durham Department of Transportation.
The goal of Duke's EnergyWeek is to "promote collaboration, knowledge-sharing, and professional networking" for students interested in the energy sector.  The situation room event was not strictly research oriented – our team rooms had windows and we were given free supper and lemonade – but it promoted the fundamentals of research: idea generation, collaboration, and outside-of-the-box thinking. 
The teams were tasked with crafting a strategy that combined technical, business, marketing, and policy considerations to increase EV penetration in Durham.  The teams operated under a hypothetical $10 million budget and strategies were to align with the Justice40 initiative, the federal plan to ensure that forty percent of the benefits of new clean transit jobs flow to "disadvantaged communities that are marginalized, underserved, and overburdened by pollution."
Participants were encouraged to consider "potential barriers to EV adoption, the existing distribution of EV charging stations, and opportunities for community and business involvement" and to be creative.
My team was comprised of students from a range of scholarly backgrounds, from a freshman beginning a mechanical engineering track to a grad student at the Nicholas School with prior work and research in school bus electrification policy. For our plan, we spent little time discussing electric cars and instead focused on expanding access to electric micro-mobility and electrified public transportation.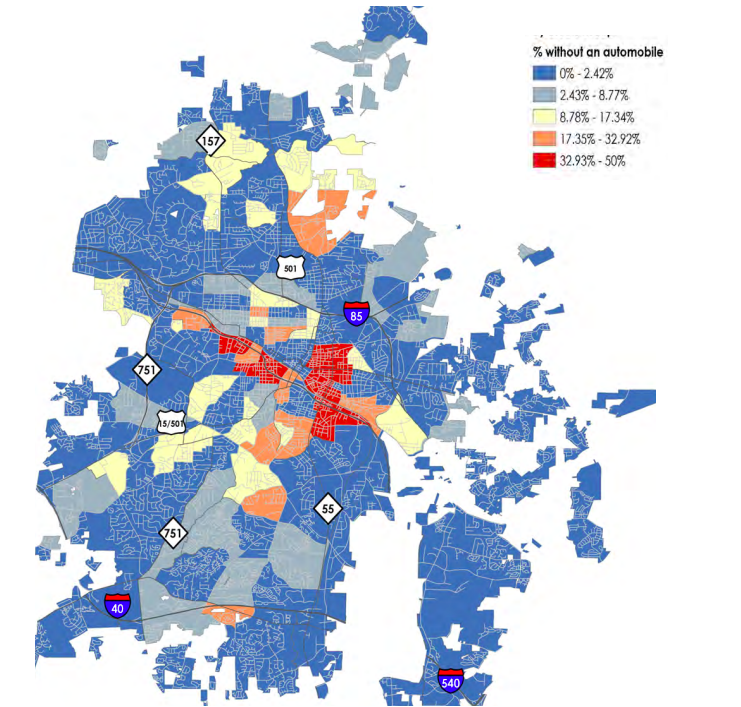 We had many reasons for doing so.  Many Durham residents don't own cars, so the likelihood of increasing the adoption of electric cars in a timely and affordable manner seems low.  Countries around the world are instead focusing on expanding e-bike access, citing, in addition to climate and affordability concerns, the desire to move away from the safety issues and traffic burden of car-centric urban design. 
We saw Durham, which is expected to double in population in just twenty-five years, as a city perfectly positioned to develop around micro-mobility and robust public transportation before it's too late and set an example for growing urban centers across the country.  We used our $10 million to add bike lanes, fund electric buses, and subsidize electric bikes across income levels.
Our team placed second (no big deal!) and walked away with a full stomach and a rekindled spark to break the Duke bubble and get involved in the exciting development of the Bull City.