I never would have imagined a scenario where a blazer, a folder of 30 resumes, and a cowboy hat were all packed together in the same suitcase.
Yet these are the items I found sprawled across my floor on the eve of Wednesday, October 20, as I prepared to fly to Houston to attend the 2022 Society of Women Engineers Conference in Houston, Texas.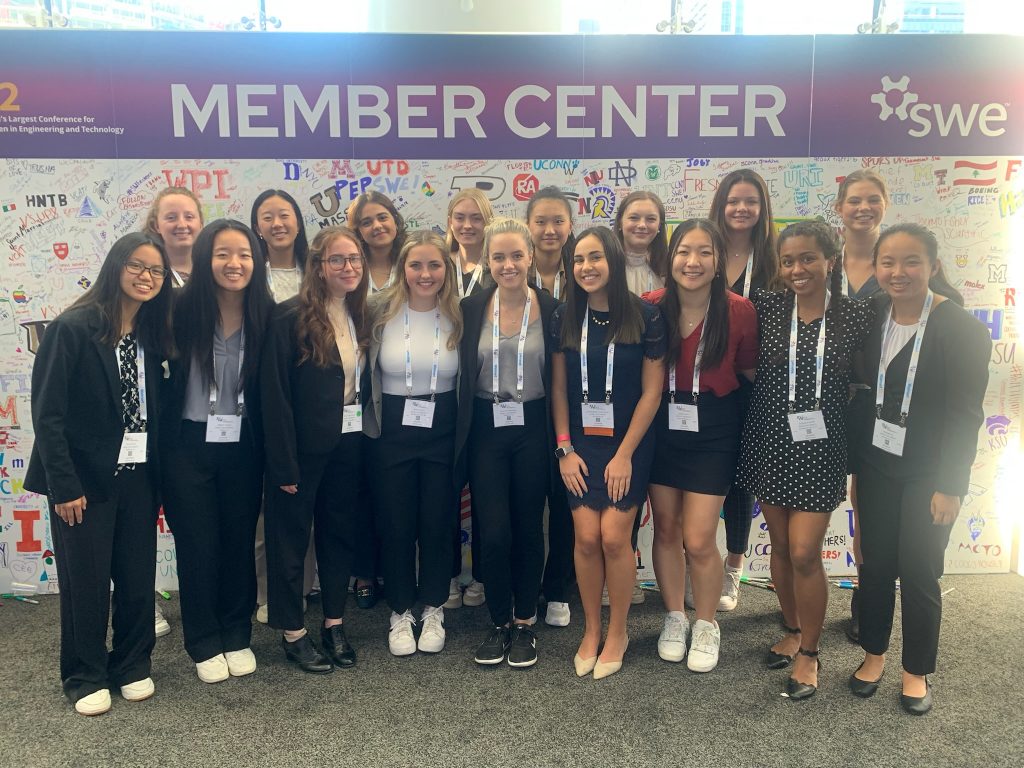 The Society of Women Engineers (SWE) is an international organization that empowers and advocates for women in engineering and technology. Founded in 1950, SWE is on a mission to establish engineering as an attractive profession to women, and provide the resources and opportunities necessary for them to pursue it. Through training programs, scholarships, and outreach, SWE builds leadership skills, creates opportunities, and promotes inclusion. The global network of women engineers across all ages and disciplines creates a valuable support system for underrepresented individuals in engineering.
The SWE conference is the world's largest conference for women in engineering and technology. It has occurred on an annual basis ever since 1951 when the first convention was held in New York City. In the past few years, the SWE conference has been known to attract 8,000+ attendees, continuously growing and breaking attendance records.
Like many colleges, Duke has a SWE student chapter, and every year takes people to the national conference. This year, 22 students were able to attend the three-day conference, with their flights and hotel costs covered.
The weekend was full of inspirational keynote speakers, carefully crafted workshops, and endless opportunities to meet powerful and impressive female engineers from across the country. For the Duke students, the weekend was additionally a meaningful bonding experience, and a significant moment in the pursuit of our academic and professional goals.
For many attendees, the main event is the career fair, which takes place during the first and second days of the conference. Not having any experience at a nationwide conference, I was expecting an event similar to your average college career fair: cardboard posters on folding tables. This could not have been further from the truth for the SWE conference!
Companies had massive set-ups, towering displays, signs hanging from the ceiling, carpeting laid out underneath, tables and chairs, and a dozen employees representing the same company. The room itself was so big you couldn't see one end from the other side.
Crowds began to gather for half an hour before the fair began. Once the doors opened, the waves of people surged in and immediately dispersed, weaving between the booths and racing to their first destination. 
After separating from my peers and walking around a bit to get a feel for the environment, I gave myself a pep talk, pulled one resume out of my folder, and walked up to my first booth. After scanning a QR code to register, I was asked about my major and then directed to the right employee to talk to.
She scanned over my resume for about twenty seconds before slapping a post-it note on it, handing it to a man behind her, and instructing me to "go with him."
Along with a few other nervous students, the man began leading us on a walk past all the booths. We reached the end of the room and kept walking, through a small opening in a big partition that stretched across the entire room. On the other side, we emerged into a much quieter atmosphere: an equally large room full not of booths, but of curtains. Dozens of rows of small rooms, created by curtain partitions, were set up for each company. After being directed to yet another person, I was brought inside one of the ominous curtain rooms for a spontaneous 15 minute interview.
I had heard from peers that on-site interviews are often conducted, but I was not prepared for the spontaneous and vastly accelerated nature of the process. After the interview, I was released back into the career fair to race to the next booth.
Almost every student left the conference with some level of success.
Throughout the day, constant messages were shot through various group chats announcing updates, interviews, new contacts, and other exciting revelations. It was easy to lose track of each other throughout the fair, but every notification felt like a wave of breaking news.
The conference is supposed to be an accelerated recruitment process – many people made connections or discovered opportunities that may lead to eventual jobs or internships. In an environment that was so uplifting and supportive of women, it was easy to celebrate each other's victories, and be reminded that one person's success was shared by all of us.
While the first night at the hotel was spent mostly frantically preparing for interviews the next day, the second and third nights allowed plenty of time for group outings and exploring the city of Houston.
Whether looking for internships or full-time opportunities, female engineering students at Duke were brought together across grades and disciplines to share in an incredibly inspirational and memorable weekend. Through the highs and lows of the weekend, we were able to participate in the same shared experiences: stressing over interviews, navigating networking, and exploring our futures as engineers.
And, of course, one more extremely monumental memory from the trip was pretending to be part of a bachelorette party on the flight home (good thing we brought a cowboy hat!).
By Kyla Hunter, Class of '23