The Panel:
In recognition of the 50th anniversary of Title IX, which was intended to make sex discrimination in education illegal, a panel of Duke women met on Thursday, September 29 to talk about whether Title IX could change STEM, (Science Technology, Engineering and Math). Unfortunately, the answer was not simple.
But just through the sharing of the statistics relevant to this problem, the stories, and their solutions, one could start to understand the depth of this problem. One takeaway was that all women in STEM, whether they be student, professor, or director, have faced gender discrimination.
Down to the Statistics:
Dr. Sherryl Broverman, a Duke professor of the practice in biology and global health, gave the audience an overview. Of all of Duke's regular ranked, tenured-track faculty, only 30% are women. In contrast, women make up 60% of the non-tenure track faculty. Dr. Broverman said men are promoted in Duke at a higher frequency. This is especially seen with the associate professor title because, on average, men are associate professors for 4 to 5 years; whereas women are associate professors for up to 9 years.
To give an example, senior Nasya Bernard-Lucien, a student panelist who studied Biomedical Engineering and then Neuroscience informed me that she has had a total of two women professors in her entire STEM career. This is a common pattern here at Duke because taking a STEM class that has a woman professor is as rare as finding a non-stressed Duke student.
The Beginning of a Girl's Career in STEM
This disproportionate demographic of women professors in STEM is not a new occurrence with Duke or the rest of the world because the disproportion of women in STEM can be seen as early as middle school. Two of the student panelists noted that during their middle school career, they were not chosen to join an honors STEM program and had to push their school's administration when they asked to take more advanced STEM classes.
Dr. Kisha Daniels, an associate professor of the practice in education said on a faculty panel that one of her daughters was asked by her male peers, "what are you doing here?" when she attended her middle school's honors math class. Gender discrimination in STEM begins in early childhood, and it extends its reach as long as women continue to be in a STEM field, and that is particularly evident here at Duke.
Women in STEM at Duke
The last panel of the Title IX @ 50 event was the student panel which consisted of undergraduate and graduate students. Even though they were all from different backgrounds, all acknowledged the gender disparity within STEM classes.
Student Bentley Choi said she was introduced to this experience of gender discrimination when she first arrived at Duke from South Korea. She noted how she was uncomfortable and how it was hard to ask for help while being one of the few women in her physics class. One would have hoped that Duke would provide a more welcoming environment to her, but that is not the case, and it is also not an isolated incident. Across the panel, all of the women have experienced discomfort in their STEM classes due to being one of the few girls in there.
The Future of Title IX
How can Title IX change these issues? Right now, Title IX and STEM are not as connected as they need to be; in fact, Title IX, in the past, has been used to attack programs created to remedy the gender disparity in STEM. So, before Title IX can change STEM, it needs to change itself.
Title IX needs to address that this problem is a systemic issue and not a standalone occurrence. However, for this change to happen, Dr. Whitney McCoy, a research scientist in Child and Family Policy, said it perfectly, "we need people of all backgrounds to voice the same opinion to create policy change."
So, talk to your peers about this issue because the more people who understand this situation, the chances of creating a change increases. The last thing that needs to occur is that 50 years in the future, there will be similar panels like this one that talk about this very issue, and there are no panels that talk about how we, in the present, fixed it.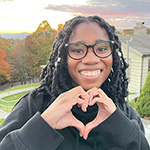 Post by Jakaiyah Franklin, Class of 2025