Posters, presentations, and formalwear: despite the challenge of a virtual environment, this year's annual Fortin Foundation Bass Connections Showcase still represented the same exciting scholarship and collegiality as it has in years past.
While individuals could no longer walk around to see each of this year's 70+ teams present in person, they were instead able to navigate a virtual hall with "floors" designated for certain teams. With labels on each virtual table, it almost mimicked the freedom of leisurely strolls down a hall lined with posters, stopping at what catches your eye. Three sessions were held over Thursday, April 15 and Friday, April 16.
The beginning of each session featured five-minute "lightning" presentations by a diverse set of teams, representing the range of research that students and faculty participated in. One such presentation was lead by Juhi Dattani '22 (NCSU) and Annie Roberts '21, who covered research generated by their team, "Regenerative Grazing to Mitigate Climate Change." The team was an inter-institutional project bringing together UNC, NCCU, NCSU, and Duke. And as they aptly summarized, "It's not the cow, but how." Cows can help fight instead of contribute to the climate crisis, through utilizing regenerative grazing – which is an indigenous practice that has been around for hundreds of years – to improve soil health and boost plant growth.
Research is not just relegated to the physical sciences. Brittany Forniotis, a PhD candidate '26, and Emma Rand '22 represented the team "Mapping History: Seeing Premodern Cartography through GIS and Gaming." Their team was as interdisciplinary as it gets, drawing from the skills of individuals in everything from art history to geography to computer science. They posited that mapmakers use features of map to argue how people should see the world, not necessarily how they saw the world. To defend this hypothesis, they annotated maps to record and categorize data and even converted maps to 3D to make them virtual, explorable worlds. The work of this team enabled the launch of Sandcastle, which aims to "enable researchers to visualize non-cartesian, premodern images of places in a comparative environment that resembles the gestural, malleable one used by medieval and early modern cartographers and artists."
Sophie Hurewitz (T '22) and Elizabeth Jones (MPP '22) presented on behalf of the "North Carolina Early Childhood Action Plan: Evidence-based Policy Solutions", Their recommendations for alleviating childhood food insecurity in North Carolina as outlined by the North Carolina Early Childhood Action Plan will provide a roadmap for NC Integrated Care for Kids (NC InCK) to consider certain policy changes.
One of the most remarkable parts of Bass Connections is how it opens doors for students to pursue avenues and opportunities that they may have never been exposed to otherwise. Hurewitz said that "Being a part of this team led me and a team member to apply for the 2021 Bass Connections Student Research Award, which we were ultimately awarded to study the barriers and facilitators to early childhood diagnosis of Autism Spectrum Disorder (ASD) among Black and Latinx children in North Carolina." In addition to the award, Hurewitz and fellow team member Ainsley Buck were able to present their team's research at the APA Region IV Annual Meeting.
From gene therapy for Alzheimer's disease to power grids on the African continent, this year's teams represented a wide range of research and collaboration. Erica Langan '22, a member of the team "REGAIN: Roadmap for Evaluating Goals in Advanced Illness Navigation", said that "For me, Bass Connections has been an extraordinary way to dive into interdisciplinary research. It's an environment where I can bring my existing skills and knowledge to the table and also learn and grow in new ways." This interdisciplinary thinking is a hallmark of not just Bass Connections, but Duke as a research institution, and it's clear that this spirit is alive and well, even virtually.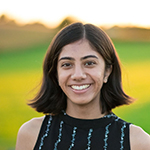 Post by Meghna Datta