Like nearly all other aspects of life, the normal routines of Duke research labs came to a grinding halt due to COVID-19. Duke researchers shared their reflections on the struggles and insights the process of research shutdown and reboot has had within their labs during a Virtual Research Town Hall on Thursday, September 3rd.
The Town Hall, titled "The Impact of COVID 19 on Research at Duke, Overcoming Challenges and Pressures" was moderated by Duke Vice President for Research, Larry Carin (Ph.D.). Dr. Carin mentioned that discussion of shutting down the research enterprise began in February, and at that point in time it seemed nearly hysterical. However, by mid-March shut-down plans were fully in progress, leaving labs out of commission until mid-June. To get research at Duke back underway, labs were forced to significantly reduce the density of people in facilities and no undergraduate students were allowed to participate.
Though most of the basic science labs are back in operation now, human subjects research trials have had a slower return. In no way is it business as usual. Detailed planning and scheduling, a focus on social distancing, and daily health surveys are all part of the new normal. "There is almost a Big Brother feel to this," Dr. Carin said, comparing the moderated tracking of who enters facilities through their DukeCard swipes to George Orwell's 1984 dystopian society.
Associate Professor Debra Silver Ph.D. spoke about her neurodevelopmental lab in molecular genetics and microbiology (MGM). In the three-month shutdown, lab members focused on writing reviews, grants, manuscripts, and took online classes to improve skills. Since re-opening, Silver's lab has implemented lab shifts, pre-scheduled experiments, and coordinated use of shared equipment. Some of the biggest issues are the trainees missing out on critical networking and undergraduates forced to transition to nearly exclusively online work. Silver also voiced serious concern for the mental and physical health of lab members, logistical coordination of childcare and homeschooling, challenges faced by international trainees, and the need for flexibility. However, there were some silver linings as well. The Silver Lab engaged with lots of seminars, had joint lab meetings, and the mutual support for one another grew immensely under the unique circumstances.
Both Silver's lab and the West Lab, led by professor Anne West Ph.D. in neurobiology, are heavily reliant on mice for wet lab work. The mandates to reduce their mouse colonies by more than 50% was a large task and now that the labs are up and running, re-expanding the colonies has been a primary focus. West said that, similar to the Silver Lab members, half of her team picked up writing or a computational project while the other half attended online classes or meetings during shutdown. Undergraduates read and presented research papers – which turned out to be a very fruitful training experience.
One major roadblock for the West Lab's reopening were the murders of George Floyd, Breonna Taylor, and Ahmoud Arbery. The civic unrest surrounding these deaths and the revivalism of the Black Lives Matter movement became a frequent point of discussion in lab meetings. Some members of the West Lab were unable to work during this time. West emphasized the importance of lowered expectations. She asked everyone to focus on one core experiment and to try to come into the lab for at least a few hours a day, a few days a week. The lab has been gaining traction with new data and research papers nearing completion. Like other panelists, West discussed prevailing issues including anxiety and depression, continued societal uncertainties, and the questionable financial future for research.
Assistant professor of anesthesiology Jamie R. Privratsky MD, Ph.D. highlighted COVID's impact on clinical and critical care research. Among the positive impacts are the Society of Critical Care Medicine's COVID-19 registry database, the abilities to do observational and database research work, and research opportunities for working with COVID patients. However, the rest of critical care research has been completely sidelined, clinician-scientists have been moved to mostly clinical duties, and there have been lots of administrative hurdles for conducting COVID related research.
Many colleagues share Dr. Privratsky's mixed thoughts on the gains and losses during the halt of critical care research. For those who were able to conduct some research, the risks to personal health also posed looming anxiety and danger. Dr. Privratsky chose to do what he could being physically away from his lab and worked to update protocols, maintain electronic lab notebooks, write methods sections of papers, and care for his mouse colony. He also submitted three grant proposals and said that he left the shutdown with a clearer vision and direction for his research.
The School of Medicine's Vice Dean for Basic Science, Colin S. Duckett Ph.D. closed the town hall with encouraging reflections. Out of 17,000 Duke administered COVID tests, there have been very few positives. Duckett emphasized how seriously the Duke community and its recently returned students are taking the continued threat of Coronavirus. Though communications persist as a challenge and many argue that life right now just doesn't feel right, Duckett called attendees' attention to the fact that the research enterprise was successfully ramped down, ramped back up, and lab activities have made a nearly completely return. This was and continues to be no small feat and is possible due to highly collaborative efforts, he said.
Further, there were large insights gleaned from this collective experience; those of researchers' resiliency, the importance of community, and the need to look beyond work and check in on each other as human beings. Research and the people who make it possible do not exist in a vacuum away from society. Their work and their well-being are subject to the pandemic just like everyone else. Yet, similar to the broader global public, researchers and their research are emerging stronger than before in the face of COVID-19.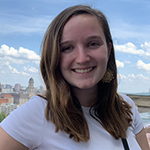 Post by Cydney Livingston