"'Betty, education is the most important thing," her father said. "We lost our home, our land, our cars, our farm, everything we have ever owned. But what I have in my head, no one can take away from me.'"
Six-year-old Beatriz glanced back up at her father and then towards the new life ahead of her. She would remember this moment in all of her years to come.
Beatriz and her family immigrated to the United States from Cuba seeking religious freedom and an escape from communism with nothing more than the clothes on their backs. Beatriz's father instilled a lesson in her that day which she now sees as a life philosophy. She prioritizes learning, for it is the one thing no one else has power over.
Learning English at the age of six was not a hard task for Beatriz, and she is still bilingual. Today, she is Dr. Beatriz Morris, practicing pediatric medicine at Duke Children's Primary Care near the Southpoint Mall. She completed her residency at Emory University and  has been in practice for over 20 years, but never imagined she would be walking the path that she is today.
"I never thought I would be a pediatrician. It was not on my list, it was not anything to me," said Dr. Morris. She uses a proverb to remind us to never say never. "Never say you're not going to be drinking from this water because you will be drinking gallons."
Dr. Morris went to undergraduate school intending to pursue art, with a specific career goal in mind – to illustrate medical textbooks. To meet the requirements for a medical illustration major in graduate school, she ended up receiving enough credits in both art and science to double major for her bachelor's degree. But in applying to illustration school, she never could have predicted what happened next.
"I went to medical school because I did not get into art school," Dr. Morris explained. "Eventually I did an internship year at a rotation after medical school, doing a little bit of everything. The good thing was that I started in pediatrics."
From there on out, Dr. Morris never looked back. She has been practicing in pediatrics for over twenty years, embracing both her Hispanic and American heritages. Speaking both Spanish and English allows Dr. Morris to make her patients comfortable by not only knowing their languages, but also having a deep understanding of both cultures.
Dr. Morris explained how that something seemingly simple, such as the phrasing of questions, can determine a patient's comfort level. For example, in American culture, it is polite of the doctor to ask permission of the patient before beginning the consultation, such as saying 'Do you mind if we talk about your weight?'
In Hispanic culture, this verbiage would make the doctor appear unknowledgeable to the patient. The patient is more trusting of the doctor through confidence, by saying something like 'Let me tell you what you need to do about your weight.'
"A lot of times people feel more comfortable speaking in their own language," she said. "There are colloquialisms of phrases, things like that, that make talking in their native language a lot easier for them."
Dr. Morris wakes up every day excited to do her job. She reflected on the moment when she knew that pediatrics was the specialty she was meant to work in. On her internship rotation, Dr. Morris spoke to a nurse, who then told her that she would make a great pediatrician.
"That moment was when I started thinking that pediatrics might be a calling for me. This might be something that I did not think of, but it might be my purpose in life. This career has been the best choice I have made."
Her advice to those looking for a lifelong fulfilling career is best described by how you feel waking up in the morning. Is waking up to go to work dreadful, or are you opening your eyes happy, knowing that you have the privilege to do what you love for another day?
"Don't do something because it will be easy, for money, or because your parents tell you to," she advised. "Do something because it is in your heart. If they close the door on you, open the window," Dr. Morris said.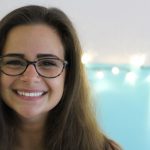 Guest Post by Samantha Gonski, a senior at North Carolina School of Science and Math