Most people don't see in ferns the glory and grandeur of the mighty angiosperms — the flowering plants — but to those who can, ferns may seem like the only thing you could spend your time researching.
Kathleen Pryer, a professor of biology at Duke, is an example of one of these people who found their calling in ferns. But she didn't know it would be ferns from the beginning.
As an undergraduate, she had thought she wanted to be an animal behaviorist, having read books by Jane Goodall, so she enrolled in McGill University in Montreal (she's Canadian by the way) in the animal behavior program and didn't end up taking a single botany course until her senior year.  For her final project she worked with snails, a starkly slow endeavor, she thought. Slower even than ferns. After getting her degree in animal behavior, she decided she wanted a masters working with plants, but before jumping right in with only one class' worth of experience with plants, she worked as a technician for a budding ecologist.  While working there, the ecologist's wife, who did her masters on ferns, took her on a trip to the annual meeting of the botanical society of America in Blacksburg, VA, a 13-hour trip.
In Virginia, she went on a 2-day field trip through Virginia, led by fern expert Warren Wagner, finding ferns with 107 other people who were mad about ferns.
"It was just serendipity really."
After that, the idea of ferns stuck, and she's been working with them ever since.  She's gotten the chance to name or rename many species of fern, and she created the genus Gaga, named after the singer.  Another new genus she found is soon to be named Mandela by her as well; a nice change from the usual names of "old white guys," given to new genera, she said.
Through it all though, Pryer is most proud of a paper from 2001, which showed that all modern ferns originated from a central progenitor, showing that they aren't as archaic as most people think. That paper made the cover of Nature, and has been cited hundreds of times since.
In the end, I guess it's really hard to tell where you'll end up.  If an aspiring animal behaviorist can jump to the world of ferns and make a successful career out of it, surely there's hope for the rest of us too.  In the end, all that matters is if you're doing what you love, and as for Kathleen Pryer, she'll keep doing what she loves as long as there's a "chair and a microscope" for her to sit at.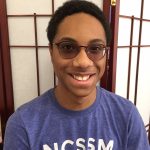 Guest Post by Isaac Poarch, a senior at the North Carolina School of Science and Math